SPBW BRANCHES
Anyone wishes to start up an SPBW branch please contact
John Dearing
Branch Liaison Officer
blo@spbw.com
For basic information, see below.
NATIONAL & LOCAL MEMBERSHIP DISCOUNT SCHEME
---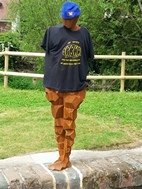 BRANCH
CONTACT
TELEPHONE/EMAIL

BEDS & N HERTS BRANCH

Kevin Machin
kevin.machin@hotmail.co.uk

BMAD

Harlow, Essex

Tony Syrett
01279 423174

CAMPDEN HILL

Kensington

Meetings at the Ye Olde Mitre,

Hatton Garden

Aidan Kerrigan

CASKTORES OF REAL ALE (CRA)

San Martin 57, Lujan, Buenos Aires, Argentina

Alberto German Eyherabide

CENTRAL LONDON

Roger West

CHESAPEAKE BAY

Greg Long
00-1-443-878-254

CHESHIRE REAL ALE PEOPLE

Colin Donald
01270 623376

COBRA-COW

Catford, London

Richard Martin
richardmartin121@yahoo.co.uk

COLAPS

Coast of Lancashire ale preservation society.

Meetings at the Grasshopper micro pub in Southport.

Andrew Firth

grasshopperhillside@gmail.com

COMMON and ALDBRICKAM

Reading

John Dearing

john.dearing@gpwild.co.uk

CROYDEN REAL ALE PRESERVATION SOCIETY

Pete McGill

GREATER MANCHESTER

Mike Langley

IGHTHAM BRANCH

Nick Boulter

IPSWICH

(Sid's Kitchen)

Iain Blacklaw
01473 253540

KINGSTON-UPON-THAMES

Branch meets at the Willoughby Arms, 42 Willoughby Road, KT2 6LN
normally 1st Weds of the month from 8.30pm.

Mike Lapworth
mike.lapworth@talk21.com

NORFOLKSOAKS

Reg Walker

NORTH EAST

Branch meets on a monthly basis dates change as we meet at various outlets across the north east.

Robin Shacklock

Chairman@spbw.beer

NORTH IRISH SEA

David Halliwell
07972 807934

THE OLD FORD PILGRIMS

Based at The Eleanor Arms, 460 Old Ford Road

Frankie Colclough

RACS

Sawbridgeworth, Herts
Meetings are generally on the last Wednesday in the month and we move around
pubs in the Sawbridgeworth area.

Caroline Macy
01279 724944

SPBW NORTHERN IRELAND

Michael Steven

spbwni@yahoo.com

SPECIAL BRANCH

Roger Jacobson

St FORBADIL BRANCH

Peter Evans

Chris Dodd

TYNE AND WEAR BRANCH.

Area between the Tyne and the Wear branch meets for days out and excursions

WANTZ

Meets at

The Chesham Arms, Homerton.

Rob Shacklock 07751 2257837

Chairman@spbw.beer

Roger Jacobson

WEST of ENGLAND

Somerset/Gloucester

Somerset Mark

WEST RIDING

Leeds

Janet Dyson

YORK BRANCH

Marcus Hodgson

m88hodgson@yahoo.co.uk
Last updated: 19/07/2021
---
---
FORMING A BRANCH
1. Recruit members.
2. Decide a name for the branch, meeting place, time and frequency. Set an annual subscription rate if and as appropriate.
3. Write a constitution: This is merely a set of guidelines for running the branch and may be short and simple; examples can be provided if required. This can include details in (2).
4. Notify the NEC Branch Liaison Officer (details below) of:
A Name of the branch;
B Details of meetings (venue, time, dates);
C Contact details for a branch contact (name, address, telephone number and email address). This information will be placed in Pint In Hand, our quarterly magazine, so that SPBW members in your area can contact your branch.
D. The number of copies of Pint in Hand required and the address to which they are to be sent. The number of copies required determines the annual affiliation fee which is payable to the NEC.
(Branch subscription rates. These are £20 for 5 quarterly copies of Pint in Hand. £40 for 10, £60 for 15, £85 for 25, £100 for 30, £130 for 40 and £190 for 60 etc.)
E. Send the affiliation fee to the NEC (cheques payable to SPBW)
F. All branch members are then regarded as members of the SPBW and are eligible to attend the NEC AGM and vote and to attend functions.
G. Send a list of members to the Branch Liaison Officer.
Also: [name], Branch Liaison Officer, [contact details] as a contact person for our branches information page.
NB/ Below isn't available for the time being. As soon as it is, admin will notify branch contacts via the General Secretary.
We will set up your own branch topic area on our discussion forum. Someone from the branch can be nominated as Moderator for that forum. We can also set up a branch website (free).