This is from Roger Jacobson's obituary printed in the November 2018 issue of Pint in Hand.
We were shocked and saddened by Bill's sudden and unexpected death on 7th September. Bill was friendly and good natured as a person as you can hope to meet, with boundless enthusiasm, and he will be sorely missed.
Bill had been an SPBW member for more than 30 years; I imagine he must have joined at a beer festival where we were running a stand. He became a member of Campden Hill and Central London branches. He joined the National Executive Committee in 2004 as Branch Liaison Officer before taking over as Products Manager, sometimes covering both posts. He also regularly organised events such as the Beer & Buffet and helped out at our stands at beer festivals. He also made useful contributions to Pint in Hand. In any capacity was unfailingly enthusiastic and conscientious – particularly where the Society's money was concerned and having taken on a task, would be guaranteed to see it to the end.
Apart from his love of beer, Bill was renowned for his hearty appetite. He was a regular Campden Hill Branch Eater and for him no dinner was complete without sticky toffee pudding. Aidan Kerrigan once recalls "I once saw Bill consume two breakfasts in one morning! First one at Marie's Cafe, Waterloo, then we travelled to Alton where he had a second one at Poppins! After that I nicknamed him Bill "double full" English (The former is still going strong, also serves excellent Thai food in the evening, well recommended. The latter shut down afterwards. AK).
John Dearing remembers an occasion when Bill was the only person who managed to eat anything. It was on the Derby National Weekend in 2013. We arrived at the Barley Mow, Bonsall expecting to have a meal. The coach driver declined to ascend a rather steep hill going up to the pub and so we arrived like drowned rats, only to find the pub jam-packed with people and no room for even a small rat to eat – or so we thought! While everyone else decided to wait till the next pub, Bill managed to order one of his beloved sticky toffee puddings and find an obscure corner in which to eat it!
Bill was also very much involved with CAMRA and was a dedicated distributor of London Drinker magazine. This involved visiting numerous pubs on a regular basis, something he quite found tolerable.
Bill was born and almost live his entire life in the Ealing area of West London. He spent the first 20 working years in the Civil Service until redundancy, then enjoyed the security of working for a locksmith. Sadly, Bill never had the chance to enjoy retirement. He lived a very full live, enjoying travelling the world, not least to places like Belgium and Netherlands where the beer was very much to his liking. Bill was also a devoted uncle to his sister's two children, regularly indulging with them with gifts and visits to the cinema – another of his great loves.
Bill, it was a pleasure to know you and a privilege to known you. Life won't be the same without your genial, jovial and engaging personality.
His funeral was held at Mortlake Crematorium on the 25th September. It's a tribute to his popularity that the chapel was packed out and that it was attended by SPBW members from around the UK to pay their respects. Peter Chutter provided an emotional eulogy on behalf of the Society. Afterwards we moved down the road to the Tap on the Line by Kew Gardens station for Fuller's beers and a buffet. Finally quite a few of us crossed the river to the Express Tavern, which offers a wide range of traditional ales. A fitting way to say goodbye to a good friend.
PS. It had been also decided to have a permanent tribute to Bill's memory. Peter Chutter had brass plaques installed (and Brasso'd) with an appropriate tribute in Ye Olde Mitre, Hatton Garden; Harp, Charing Cross and the Star, Belgravia.
Then there was the first Bill English Memorial Breakfast in Alton, Hampshire in 2019, appropriately organised by myself with the assistance of Peter Campbell, as it coincided with the last RE Bus and Coach day. Bill had attended and enjoyed that event in the past. 3 of the attendees managed to consume 2 breakfasts that day.
Sadly the planned second one that was to have taken place in Derby last year had to be cancelled because of COVID 19. We hope that we can hold it later this year. Bill loved the city and its pubs and had decided to move there after retirement. Unfortunately that wasn't to be.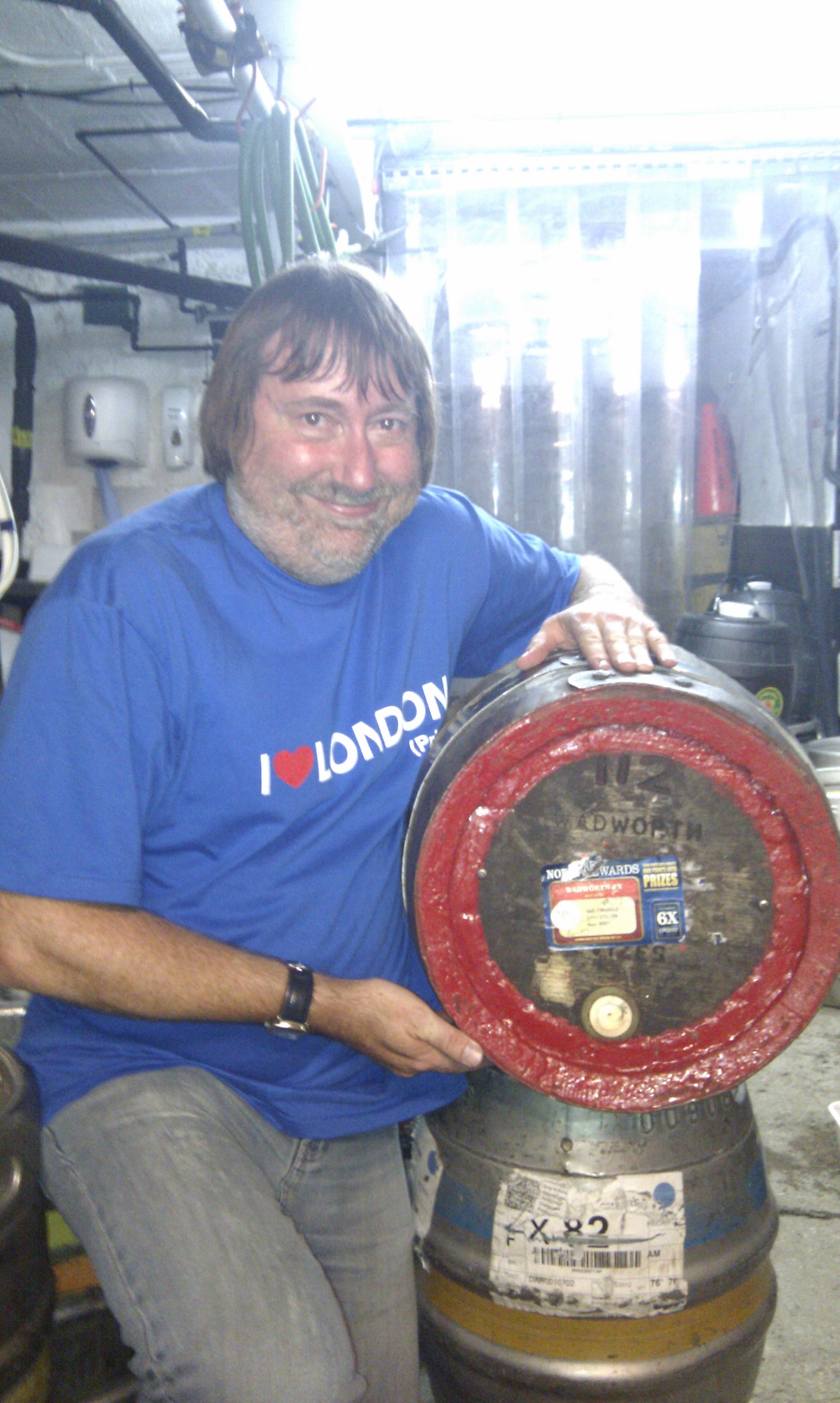 Bill's sister Janet and her husband Chris had bought a bench dedicated to Bill from the Woodland Trust that runs their local park, Non Such Park in Esher. As you can see a very beautiful setting and landscape. It had been planned to hold an official dedication there, but by the time it was to happen, only 6 people were allowed to meet outdoors, so this was cancelled. On Saturday 10th October 2020, an informal dedication was held instead and Janet and Chris hosted Hugh Armstrong and I for this. A great time was had by everyone and our hosts were very hospitable with the food and beer (nearly all bottled conditioned). Below is Hugh, myself and Janet.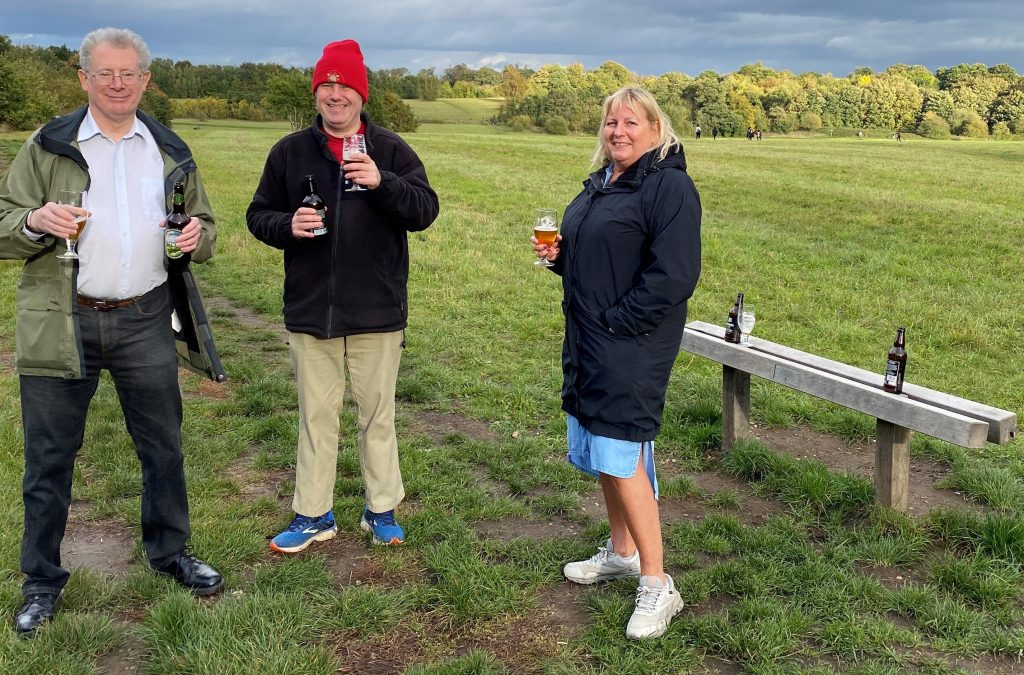 Aidan Kerrigan